Don't fire up Dreamweaver...yet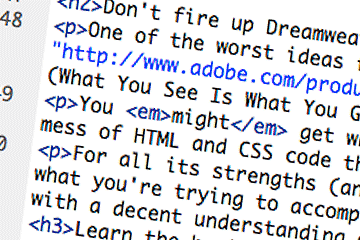 One of the worst ideas for budding web designers is to fire up a copy of Adobe Dreamweaver and start clicking away in its WYSIWYG (What You See Is What You Get) interface.
You might get what you see when you upload your site to the Web. You might not.
For sure you'll get a hot mess of HTML and CSS code that makes no sense to you at all. That's a problem.
For all its strengths (and there are many: I'm using it to type these words), Dreamweaver can't understand what you're trying to accomplish, so it uses brute force to create code that will work in almost any situation. A human with a decent understanding of coding and how the Web operates can usually do it better.
Learn the basics
So here's the key: learn the basics of the Web and its underlying code—HTML (HyperText Markup Language) and CSS (Cascading Style Sheets).
You can create the code using free software for the Mac (TextWrangler) and PC (Notepad++). Even simple text editors like TextEdit (Mac) and Notepad (PC) will work.
Remarkably enough, the best video tutorials I've found for learning HTML and CSS are from a series called—strangely enough— Introduction to Dreamweaver. Tutorials #10-13 cover the fundamentals clearly and thoroughly. You can watch #10 above.
I've asked my Web Publishing 2 students to work through these tutorials to review what they learned last semester, and they love them.
You'll find these tutorials on YouTube. Better yet, see the whole range of tutorials and other services offered by Timothy Benbow at his site, TimothyTraining.net.
Top of page |