Brunch @ the Beachland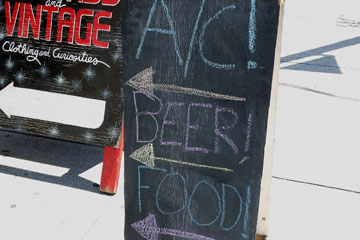 We weren't really interested in the A/C or beer, but did want to give the food a try at the Beachland Ballroom Sunday Brunch. It turned out to be quite good, better and far more interesting than what many restaurants serve up.
Breakfast is my favorite meal, and I'm happy with the standard American fare: bacon, eggs & hashbrowns. The potatoes make all the difference: have to be real sliced or shredded potatoes, cooked crispy. None of those McDonald's-style frozen patties.
The Beachland passed this test with flying colors, offering thinly-sliced potatoes done just right. The menu offers much more than that, a range of breakfast-y items with a twist, like Duck's Egg Omelette, Smoked Salmon and Latkes and a Savory Vegetable Tart du jour.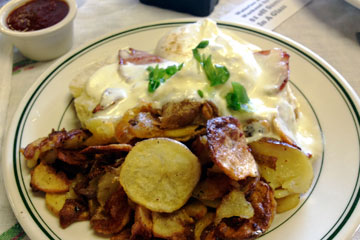 Joanne wanted the vegetable tart but our waitress sadly told us that today's was burnt and not available. The salmon & latkes turned out to be a good substitute. I had the Eggs Beachland, poached, on a buttermilk biscuit, lightly covered with a Gruyere sauce.
The biscuit was disappointingly dense and heavy, not light and fluffy, but otherwise I enjoyed the meal. Quality ingredients cooked nicely.
As befits the Beachland, there was music: a DJ played what I'd call alternative rock, just a bit louder than necessary.
And I don't want to forget the drink options: a nice selection of champagne + fruit juice combos, breakfast cocktails (Irish Breakfast, anyone?), five Bloody Marys plus hot coffee drinks. What a way to start the day!
Top of page |