Replacement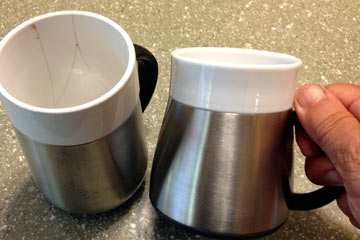 On the left is my very favorite, best coffee mug ever, showing serious cracks to its ceramic liner.
Next to it is the replacement that came in today's mail. It's shorter and fatter, and holds a few ounces less. Otherwise it shares all the things that made me love the original.
If you're a serious coffee drinker you probably have a favorite mug too. One that just feels right in your hand. In this case, the mug offers insulation to keep the coffee hot, an important factor when you like to linger over that first cup.
I've tried a lot of thermal mugs, and most have the same problem: after a few weeks or months they pick up a stale coffee odor that no amount of washing will get rid of. Plastic mugs are the worst, but I've noticed it with metal ones too.
These mugs, by Contigo, solve the problem by wrapping a ceramic liner in a stainless steel skin. They have a non-slip rubberized base and a comfortable plastic handle. They just feel right in your hand, and wash as easily as any ceramic mug. I bought my first at Target but had to go online to get the replacement, a 10 oz. Thermo Ceramic Ava Pod Mug.
It was worth it. I was getting kind of jittery, expecting my cracked mug to start leaking any day. Now I can relax and smell the coffee.
UPDATE (January 2015)
Within a year my replacement mug had cracked. Since it was sold with a "Lifetime Guarantee" in December 2013 I sent a picture via email to Contigo, asking for a replacement. In reply, Contigo emphasized that they offered a "Limited Lifetime Guarantee." (Too bad, sucker!)
Thus, the company explained, the crack caused by pouring coffee into the mug fell into the category of "normal wear and tear, accidental damage (including dropped product), product misuse, improper care, or cleaning related issues" and was not covered by the Lifetime Guarantee. When I asked for a further explanation of how what I did could be "misuse" or "improper care" I got no reply.
It's clear to me that this was a design/manufacturing defect. Metal and ceramic expand and contract at different rates. The design didn't accommodate for hot coffee in a cold cup, a significant problem, I'd say.
Thanks for nothing, Contigo. #LifetimeGuaranteeMyAss
Top of page |