Best. Meeting. Ever.

Oh yeah.
We should have been across the street at the official luncheon during Tri-C Convocation Day, but my colleagues generously decided to treat me to lunch. With Margaritas.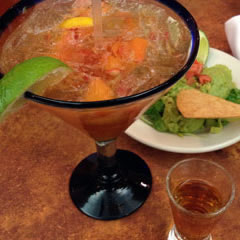 I could not have asked for better folks to work with: talented, dedicated, remarkably low on ego and high on cooperation, even our meetings without Margaritas were good. But this one was the best.
In the picture (taken by Dan with his iPhone and nifty free Photosynth app) left to right: Suzanne (the software gave her a third arm), Angela, me, Bill, and Miriam.
I was drinking a very unmanly fruity Margarita with a sidecar of Cointreau and enjoying it immensely.
Exit
In another of the mini-revelations I've had lately, I stopped just before I left the building. I realized that this was the last time I'd be pushing through these doors as a fulltime Assistant Professor at Cuyahoga Community College.
As insignificant as it may seem, sometimes little things do mean a lot. A different life was on the other side.
With that in mind, I pushed through into the sunshine.
Outside
Driving home it was such a beautiful day I decided on a side trip to one of my favorite places, the Ohio and Erie Canal Reservation just off I-77 at East 49th Street. I walked down the hill to where bridges, power lines and pipelines cross the canal.
I stopped to download the Photosynth app to my phone, which let me easily capture this panorama.
Top of page |