Al vs. groundhog: stalemate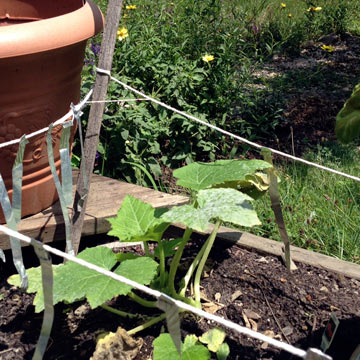 For the moment it's a stalemate. The proof is right here: tender, delicious squash leaves still intact. Beyond them, dainty yellow Coriopsis blossoms.
If the groundhog were in the garden the leaves would be bare stalks, and the Coriopsis buds would have been snacks long before they could bloom.
But...I'm not so foolish as to think my troubles are over. I've trapped and relocated two medium-sized critters this summer, but I know there's still a big one somewhere. I saw it in my neighbor's garden, and my son-in-law spotted it in the next door front yard.
My only hope is that, like insurance salesmen, groundhogs divide an area into exclusive territories to work in. The one in the front yard assumes that one of its comrades is taking care of the back yard. Until it figures out otherwise I may be safe.
Top of page |