Sandwich wars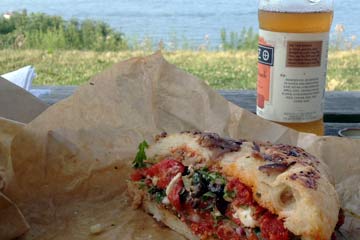 It was HOT today in Cleveland: an official high of 98 degrees. We've managed to keep our non-airconditioned house fairly cool by keeping our doors and windows closed during the day. With ceiling fans in nearly every room it's been very tolerable.
Still, by suppertime it seemed like a good idea to take a picnic to Edgewater Park where we could catch a cool breeze off the lake. The question was what to eat.
Nothing appealed from our selection of neighborhood restaurant menus. Pizza, too heavy. Thai/Vietnamese/Chinese, not for a picnic. Middle Eastern, restaurant closed for the day. Hmm...maybe we should just pick up a couple of sandwiches at Subway. Or try the carry-out market at the Flying Fig.
At this point my working-class upbringing always kicks in: why pay $8-9 for a "gourmet" sandwich when you can get at footlong at Subway for $5? Can it possibly be worth the difference?
The answer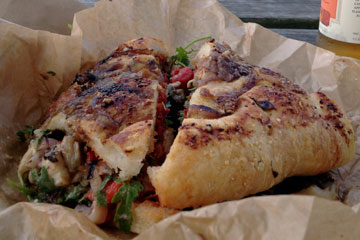 In a word, yes.
The sandwiches we ordered, Two Cheese for Joanne and Roasted Eggplant for me, were outstanding. And huge. To save money we could have split one between us and been fairly satisfied.
On every level they were far better than Subway. I'm not knocking Subway: as fast food goes, theirs is decent. Still, every time I get a sandwich I notice how much bread there is compared to the good stuff inside. Not true with our Flying Fig sandwiches.
Check the top picture: my caramelized onion foccacia could barely hold the mound of sundried tomato pesto, fresh mozzarella, roasted red peppers, pickled fennel, greens, and olive salad. I didn't think I'd be able to finish it all, but it was so full of flavor and texture that I ate every shred.
Joanne's wasn't quite as overstuffed, but was still a good meal. We'd thought about getting a big chocolate chunk cookie as dessert, but that would have been overkill. Maybe another time.
So I'm happy to report that if you can afford the extra few bucks you definitely get your money's worth by choosing the gourmet sandwich from the Flying Fig Market. If you can only afford Subway, it might be better to make your own sandwich to take to the park. That's what my mom and dad would have done.
Top of page |