People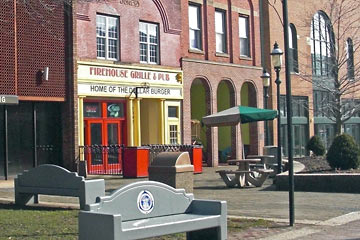 It was a beautiful warm February day as I walked through a pedestrian-friendly section of Cuyahoga Falls, Ohio. Unfortunately I wasn't joined by many other pedestrians.
Part of the problem is that apparently most businesses close on Wednesdays, the day I was there. And it was February, well before most of us expect warm and sunny days. But still...
Where are the people?
It's obvious that the town had decided to create a place for people to gather. There were brick walkways. U.S. urban planning seems to mandate brick walkways as a sign of "people-friendliness". And benches, too, although these particular benches are about as inviting as concrete blocks.
It's everywhere
I don't want to pick on Cuyahoga Falls, because this kind of "develop and they will come" planning is everywhere. I made a short video of Toledo's effort when I visited there in 2010, and it wouldn't be hard to find examples in my hometown of Cleveland.
The problem is the people. We don't have a culture of enjoying our cities and towns on foot. We drive to the mall to have lunch at TGIFridays instead.
After enjoying vibrant city centers all over Europe, mingling with both tourists and locals, it nearly breaks my heart to walk through downtown Cuyahoga Falls, downtown Toledo, downtown Milwaukee, downtown Cleveland.
Top of page |