HD > Orchestra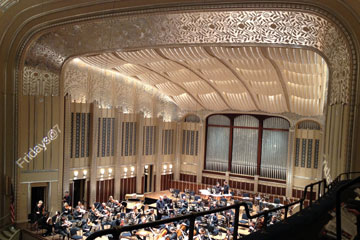 About 20 of us took advantage of the deal arranged by local bar The Happy Dog: $30 gets you a ticket to the Cleveland Orchestra Fridays@7 performance and a bus ride there and back.
Our seats weren't nearly as good as a few years ago when the Orchestra had a Bloggers Night, but still the surrounding were as gorgeous as ever.
No doubt the orchestra hopes to attract people younger than me with a deal like this. I'd put the average age on the bus at about 40. Not many young hipsters, but at least Joanne and I were the only retirees.
I love this effort by HD co-owner Sean Watterson to promote music and culture in Cleveland. He sees the big picture, that it's all good, all related. Before we got off the bus at the end of the evening he told us that next up is a visit to the HD by the chief curator of the Cleveland Museum of Art. He'll talk about the Rembrandt exhibit as well as all the new developments at the Museum.
Like the guy in the Browns jacket at the Museum, the chief curator speaking at a bar is the kind of healthy mixture of Cleveland culture that I love.
Top of page |