Recycle this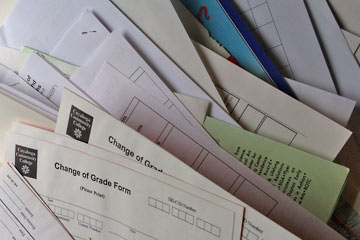 I thought it might be hard to sort through the boxes, binders and folders of paperwork left from my years at Tri-C, but not really. In an hour or two I filled a big garbage bag destined for the recycling center.
When I've tried this in the past, it was hard to decide what to keep and what to throw away. I always figured I might need a form or minutes from an old meeting.
Retirement changes all that. I don't need any of it. Even if I go back and teach part-time, I'll start fresh.
It felt great to rid myself of twelve years of accumulated paper. My worktable is as clear as it's been in years, and I'm not done yet.
Top of page |