Mmm...
One of my very favorite pies is coconut cream. For better or worse, I've long used the ready-made Baker's Square version as my standard of deliciousness, followed closely by the Marie Callender one you can buy at the grocery store.
I also have made my own with Jello Coconut Cream pudding, and that's good too. But I've long wondered what it would be like to make a pie completely from scratch. A visit from our monthly dinner group today gave me an excuse to try.
Google quickly provided me with a recipe from Emeril Lagasse that got 5-star reviews, so that's what I went with. I liked the fact that it used 1-1/2 cups of toasted coconut—no scrimping for Emeril—but had a meringue topping rather than the whipped cream that I'm used to. With something as rich as coconut cream I always feel a little bit guilty slathering with whipped cream.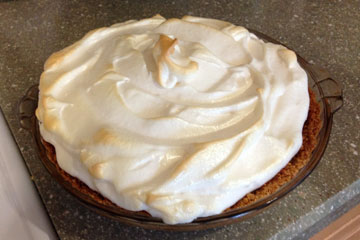 I used a graham cracker crust with a dash of cinnamon in it. I haven't mastered pastry crusts yet, and prefer the sweet & crunchy crust for a cream pie anyway.
Here's the finished product right out of the oven. It got rave reviews from our guests.
The preparation was a bit involved, what with toasting and simmering and whisking of various things all going on at once, but not that tough.
The verdict
Bottom line, of course, how did it compare to Baker's Square? I have to say I was a little disappointed that the filling wasn't as creamy as I expected. A little online research explained why: the Copykat.com recipe—and several others—call for 3 cups of half and half vs. 2 cups of whole milk in Lagasse's recipe.
And of course there's the meringue on top rather than whipped cream. Definitely less decadent, and better for you.
Both the Baker's Square and the Callender versions weigh in at close to 650 calories for a 1/5 pie slice, the restaurant serving size. They also have about 40 grams of fat per slice. I couldn't find the numbers for my home-made version but I'm quite sure they're lower in both areas.
All in all, a good trade-off.
Top of page |