Strong views
It's a very good day when you can hear powerful social/cultural/artistic views in an environment with gorgeous views of art and the city. Saturday was one of those days.
Artist Hank Willis Thomas spoke to an overflow crowd at the Cleveland Museum of Art. He's the son of photographer Deborah Willis and jazz musician Hank Thomas who works mostly in photography, although his newest project Question Bridge uses video and the web, and is opening as installations in five cities.
Willis Thomas described his admiration for his mother's work as he explained his own path. An early inspiration was the book Sweet Flypaper of Life by photographer Roy DeCarava and writer Langston Hughes. He has academic cred, too, with a BFA from NYU's Tisch School of the Arts and an MFA from California College of the Arts.
Much of his work deals with the image of African-American males in our society. Branded is a series of photos based on the omnipresent advertising images that saturate our consciousness. I guarantee these will make you stop and think.
Strange Fruit uses a similar technique to raise questions about how sports shapes the image (and self-image) of African-American men. Mouse over the sketched image above (from my notes) to see the actual photo.
Much of the power of Willis Thomas' images is that they makes us think about what they mean rather than presenting us with a pre-digested answer. His is a voice we're going to hear from a lot more.
Other views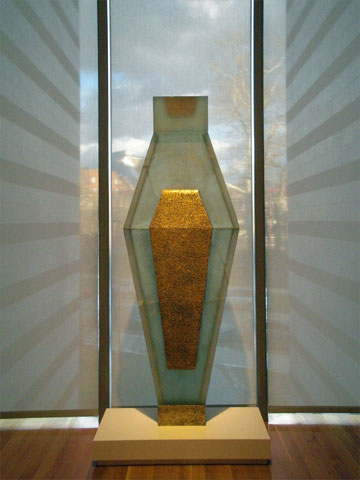 I love the new East Wing galleries at the Museum of Art. The room layout lets you see through multiple galleries and as you walk towards the original 1916 building you end up in an absolutely stunning glass box filled with sculpture by Rodin.
Along the way there are several smaller revelations, like this narrow window at the end of a corridor facing east. The building frames the art and the city beyond. On the left, the sun glints off the curvy roof of CWRU's Peter B. Lewis building.
All in all, a great afternoon.
Top of page |