Improvements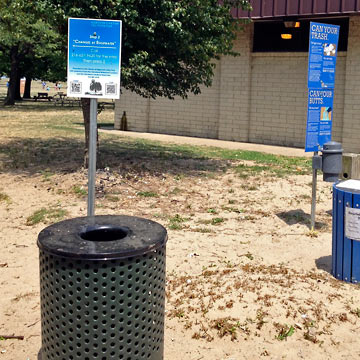 After Plain Dealer reporter Mark Naymik called the maintenance of Cleveland's lakefront parks "embarrassing," the state of Ohio made some improvements. The key word is "some."
Take Edgewater Park, my favorite. For years I've been going there about three times a week to run the path that loops around the lower level. I've noticed changes since Naymik's article.
Several bright green portable bathrooms have popped up on the grass here and there. More convenient than the smelly permanent restrooms, but what eyesores!
And then there are nice new trash containers, like this one.
---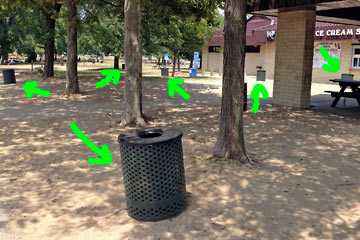 Funny thing, though. The shiny new trash containers, six of them, are all in the immediate area of the Honey Hut ice cream stand*.
---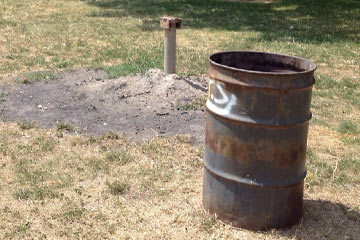 Everywhere else are the same battered metal cans, some with Civil Defense labels stencilled on them. We're throwing our trash in dented, rusty relics of the Cold War.
Behind this can notice the metal post, what's left of a barbecue grill. Many of the sturdy metal grills have vanished*, so if you haven't brought your own, you'll be eating cold hot dogs. Or buying them from Honey Hut.
---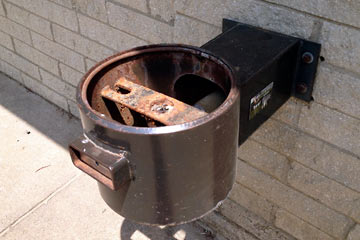 You'd better bring water too, since the water fountain on the wall near the concession stand is just a rusty shell. Not surprisingly, Honey Hut sells bottled water.
---
Since Edgewater is run by the Ohio Department of Natural Resources (ODNR), it's their job to fix things like grills and water fountains. That's why we pay taxes, isn't it?
But wait. Maybe our private-sector-loving Republican Governor Kasich has started to privatize the park system by forcing us to buy food and water from Honey Hut. If so, that stinks more than the bathrooms.
Help fix 'em
In his PD article, Naymik suggests that you Tweet your comments and photos using the hashtag #savelakefront. He also asks that you upload recent photos or videos showing conditions in the park(s). Several of his articles on the topic are collected here and are well worth reading.
While you're at it you might also try posting comments and/or photos on the Ohio State Parks or ODNR Facebook pages.
Update
* I went back, looked around the park again, and added new comments on July 31, 2012.
Top of page |