Learning jQuery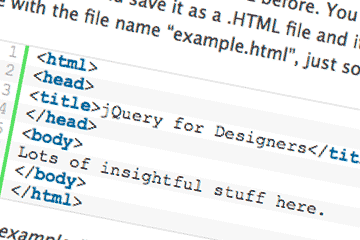 One of the most commonly-used techniques for bringing animation and other fancy effects to a website is a collection of JavaScript code organized into a library called jQuery.
Of course the code stuff that programmers love can be intimidating to designers, but jQuery is a way to combine the best of both worlds. Programmers write the code, designers put it to use.
What could be better?
Slow down
If you've ever seen the mess Dreamweaver can make of HTML when people blindly point-and-click their way to building a website, you know the problem. It takes a basic understanding of the code to use these tools effectively.
Like it or not, designers need to learn code, at least the basics. I'd advise everyone to learn HTML and CSS before starting to use Dreamweaver. It will save you hours of frustration in the long run.
For jQuery, the same idea applies. And here, courtesy of Design Festival, is what we need:
An Introduction to jQuery for Designers
Can't wait to dive into it myself.
Top of page |