Back at it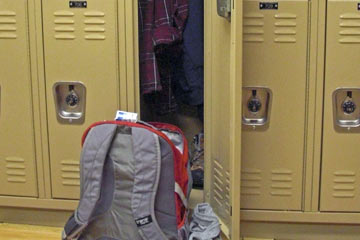 Usually I run at Edgewater Park to enjoy the views (lake and people). I don't mind the cold if it's above 20 degrees, but recently the park folks have stopped plowing the path when it snows. Not good.
A few days ago my time on the ice- and slush-covered path left me cold, wet and unhappy.
Time to activate the 30-day membership at the Cleveland State Rec Center that I got for half price via Groupon.com.
Other than the ripoff locker room design—only a handful of free lockers, with the vast majority being ones you need to pay to rent—it's a nice facility.
I luckily scored the last free locker, changed clothes and went up to the third-floor track. At 11 laps per mile it's about the length of the old track in Woodling Gym, but it's completely flat. Harder on your ankles and muscles than Woodling's banked version.
On the other hand, there's a ton of exercise machines of all different kinds, a few on the third floor, and many more on the second. If I had more time I'd be there daily. As it is I'm shooting for three times a week. We'll see.
Top of page |