Rain barrel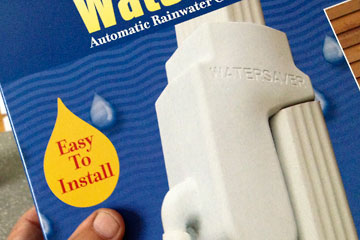 First, beware anything that says "easy to install." In my experience (35 years in a hundred-year-old home) almost no task ever falls into that category.
Installing this Garden Watersaver diverter to channel water to my brand-new rain barrel sure didn't.
You might think that you just hacksaw the downspout, stick the plastic gizmo between the two pieces, and sit back and wait for rain.
But you'd be wrong.
---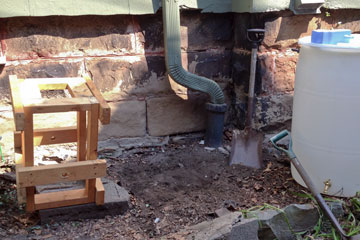 There's the rain barrel itself. It's big and when filled with water, very heavy. You need to have it on a solid base. And you probably want to raise it off the ground so the spigot at the bottom is easy to get at.
I thought I was ahead of the game because my son had left a sturdy raised platform in the attic, a remnant of his homemade workout room. This would be the stand for my rainbarrel.
Sturdy because he'd used it for bench-press barbells. I didn't realize how many screws and nails he'd used to attach it to the attic floor.
It took more than a half hour in a hot, dusty attic, along with an array of drills and crowbars to free the stand and modify it a bit to better support the barrel.
Next came an hour or so of digging and leveling a couple of recycled cinder blocks to make a foundation. Then came the diverter itself.
---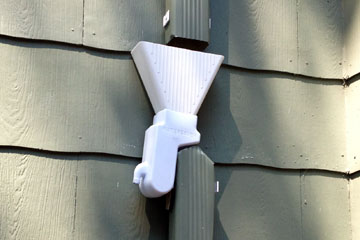 Here's what I ended up with, not at all what's shown on the package. The funnel arrangement is my idea, prompted by two things.
First, the diverter was designed for a 3" x 2" downspout, not my 4" x 3" one. I planned to buy a simple reducer to make the transition, but fortunately (as it turned out) Home Depot didn't have one on the shelf.
The second problem I'd noticed is that there was no screen or filter to keep debris from clogging the diverter, and no practical way to add one.
Apparently the manufacturer thinks that the curved bottom section will force water to swirl around and swish leaves and twigs up into the overflow pipe. Fat chance. I guarantee you that it will clog in no time. It will take one big leaf or small twig to jam itself sideways and the pile-up will begin.
Better diverters
have a removable screen to take care of this. I needed to make my own.
Scanning the shelf at Home Depot I had a "two birds with one stone" moment. A plastic funnel designed for a 3" x 2" downspout fit right into the top of the diverter. Then, if I cut the downspout an inch short of the top of the funnel I could add a mesh or screen filter. I ended up using a piece of a rectangular plastic storage basket that was nearly an exact fit (see photo below).
---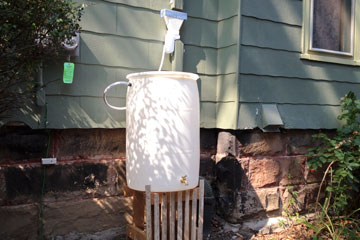 I'm not crazy about how my blue basket filter looks, but it will do for now. I plan to custom-make one out of 1/2" hardware cloth that won't look quite so funky.
I added some wood lattice strips to make the base look a little neater, and will plant small bushes on either side.
But for now, let it rain!
More
Is the stand strong enough? A few days later I made modifications and improvements.
Top of page |