Portfolio show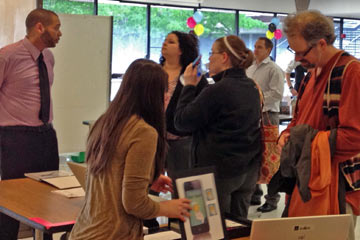 In some ways it all boils down to this.
All semester long the students in Portfolio Preparation, VC&D 2990, have worked through a sometimes-frustrating, always challenging process of planning, advertising and finally presenting a portfolio show that's open to the public.
Then you wait, hoping that the public— particularly the professional designer, recent-graduate-hiring type— shows up.
Day 1 went pretty well, although we'd have liked more people. We're hoping that Day 2 on Wednesday brings more folks through the door.
Top of page |