New music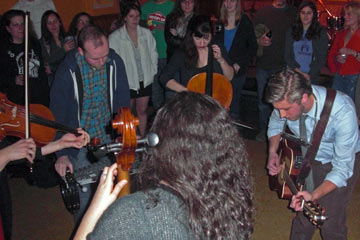 Social media at work: a Facebook post by my friend Dan Levin mentioned that his daughter's band The Ridges would be playing at the Beachland Tavern on Friday. The video he posted looked and sounded pretty good, and I went to the band's website to hear more. All promising.
So we rounded up a couple of friends and went to the Beachland. A good time was had by all.
Before taking the stage the band played an acoustic number right in the middle of the crowd. Talk about connecting with your audience! If we had instruments we'd have been part of the band.
The Ridges play an unusual assortment of instruments including cello, viola, keyboard, drums and of course guitar. Their sound is a boundary-blurring mashup of alt-classical-folk-rock, lively and enjoyable. Wikipedia describes them as orchestral-folk-rock.
Hope we get a chance to hear them as headliners rather than opening act. They're that good.
Top of page |