In Dorothy's footsteps?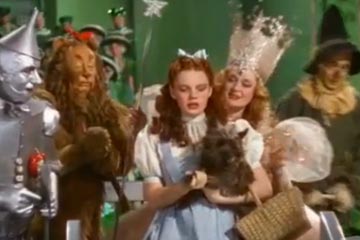 I never would have figured it out myself, but a short feature on DVD for the Emilio Estevez/Martin Sheen movie The Way pointed this out:
The pilgrimage that's the heart of this movie about a man walking the Camino de Santiago? According to Estevez it's (deliberately) a lot like Dorothy following The Yellow Brick Road in The Wizard of Oz.
Off to see the...
Martin Sheen is Dorothy. He plays Tom, an American doctor uprooted from his country-club lifestyle by news that his son was killed in France. This personal tornado lands him in France to identify his son's body. Helped by advice from the Good Witch...I mean a French police officer...Tom decides to walk the Way himself, carrying his son's cremated remains.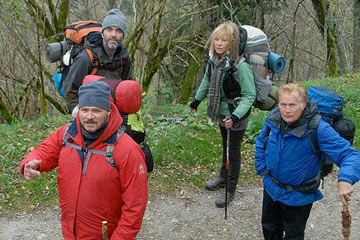 Curmudgeonly Tom meets the rest of his merry band along the way : a jovial Dutchman (the Cowardly Lion), a cynical Canadian woman (the Tin Man) and a stereotypical drunken Irishman (the Scarecrow).
Don't worry, though, the parallel isn't obvious enough to make it seem silly. It's a good movie, serious enough to make you think and feel, funny enough to let you enjoy the journey.
I generally dislike Hollywood movies, but I'll make an exception for The Way. No car chases, explosions, or other excesses. In a very un-Hollywoodish way, (Spoiler Alert!) troubled Tom never hooks up with the hot Canadian MILF. Otherwise the roles play out pretty much as you'd expect. In a good way.
Even my friend Joe, a big fan of car chases and explosions, enjoyed it.
Top of page |