Bear 71
I've been involved with interactive media for 15 years—reading about, experimenting with, and teaching it. My personal holy grail that I'm searching for is an interactive experience that changes the way I see or think about life the way a great movie or book can.
Bear 71 may not be it, but it's darn close.
Yet another gem from the National Film Board of Canada, you control a moving dot that traverses a map showing forests, rivers, railroads...and animals. Bear 71, Elk 132, Wolf 27 may be within your section of the map as you and they move about. There are humans, too. You are given a number, and if your computer has a camera your picture shows up on the map too.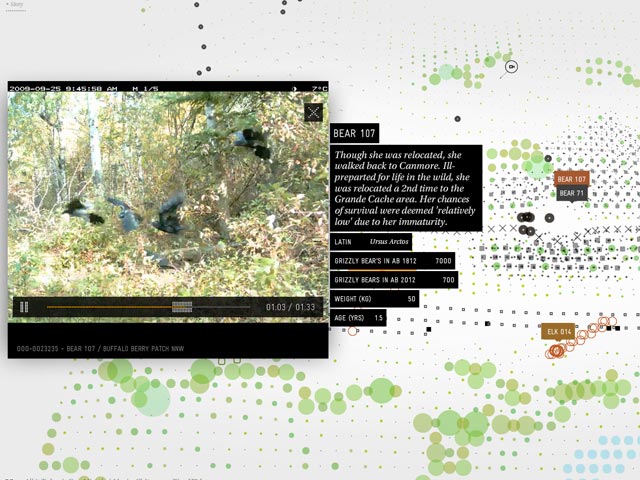 One of the most startling moments in this 20-minute interactive documentary is when I realized that other humans marked on the map were exploring it at the same time. I could see their pictures, which was both interesting and a bit weird. I felt a little like a stalker.
Why does it work?
There are several things that Bear 71 does better than most interactives:
It tells you up front that it's 20 minutes long, eliminating the unsettling feeling that you are committing to an unknown length of time. When you start reading a book or watching a movie you a pretty good idea how much time it will take.
The music creates a mood that changes as you move through about a dozen sections of the story. As in movies, the soundtrack helps you understand the emotion of the story.
The visual format is familiar: a map. It's more abstract than a Google map but still is something that most of us have seen and used before.
There's lots to look at and explore. As you move anywhere on the scrolling map, you see labels for animal and locations. Click them an a small movie plays showing activity in that area. In the meantime the main story continues.
There's a human voice. In my opinion this is the key to humanizing what happens on the computer. In this case the human voice tells the story of Bear 71. From the bear's point of view. Clever and compelling.
Travel with Bear 71
Roam around the forest near Banff, Alberta, Canada, where the air smells like hash browns and there's not much that can kill a grizzly. Her true story may move you more than you think: Bear 71.
Please share your reactions in the Comments section below.
Top of page |