Kingston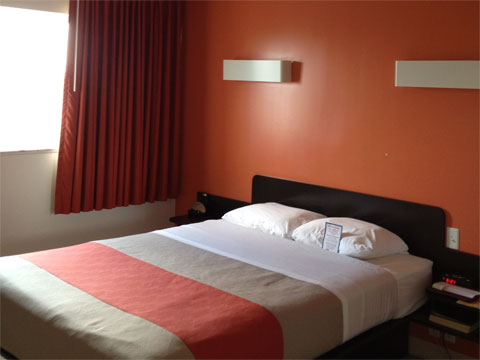 Our Canadian friends recommended that we visit Kingston for a more relaxed, small-town vibe after spending several days in Montreal.
I checked both TripAdvisor.com and AirBnB.com for an interesting yet affordable place to stay. No luck.
So we ended up in an inexpensive ($81/night, online special) but not very homey room at the Motel 6.
In nearly every way imaginable, quite a distance from Au GitAnn.
---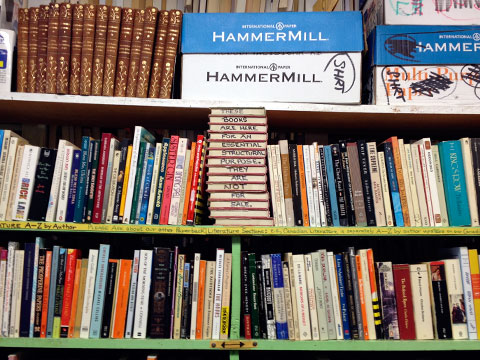 We drove into Kingston and wandered around. Lots of little shops, if you like that sort of thing, including several bookstores.
At a time when independent bookstores are rare in the U.S. there are at least four in Kingston!
I loved the feel of Wayfarer Books, which not only sells used books but puts them to use as structural elements (notice the comment on the stack of books at the center of the photo).
---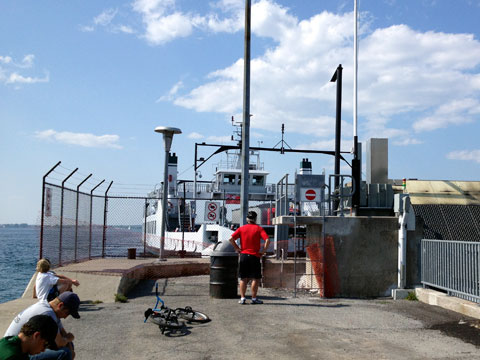 Tucked away at the edge of downtown Kingston is the dock for the ferry to Wolfe Island. The free ride 20 minutes was one of the high points of our visit.
You can wait in a long line of cars (longer, it seems, for the return trip) or just park your car and walk on board. Better yet, bring a bike.
The island reminded us a lot of Kelleys Island, our summer vacation spot on Lake Erie. While Wolfe is quite a bit larger, it shares a similar laid-back, quiet feel.
---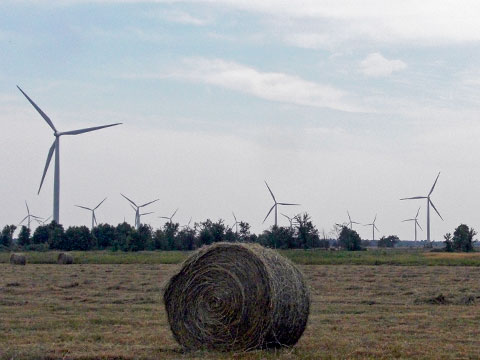 Except for the wind turbines. There are 86 on the island, the second-largest wind farm in Canada. You can see some of them from the mainland, and as the ferry gets closer you see more and more.
Once on the island, they're everywhere. We walked a mile or two along the shore to the Wind Information Center, a small shelter at the edge of a farmer's field in the midst of a cluster of turbines.
I'd hoped to talk with someone about the history of the project. I was curious to know if there had been opposition from local residents, a problem which plagues American wind projects. Sadly the "Information Center" was just a few panels of photos and printed descriptions of the project.
I also wanted to hear for myself: people have complained about the noise of wind turbines, yet these were virtually silent. I walked to within 20 feet of one, slowly turning in a wind of about 10 mph. I heard nothing but the hum of what may be a transformer at its base. It sounded like a noisy home air-conditioner. Otherwise, the loudest noise was the chirping of birds.
Top of page |