Montreal meals
Last week I posted about what we did on our recent trip to Canada (see below). Today I'll show you some of the meals we had. All were good, some excellent, and a few truly memorable.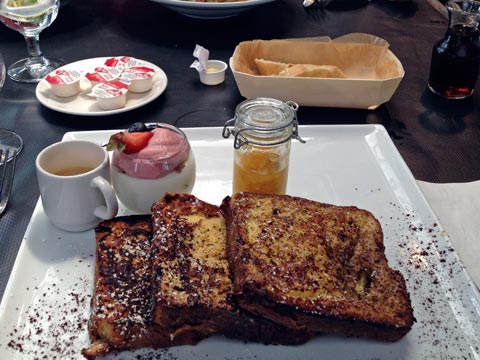 On the advice of Anne, our hostess, we had brunch at the Montreal Museum of Archeology and History.
With Montreal's French roots (you're reminded frequently because everyone speaks the language) I figured the French Toast would be a good bet.
My meal was everything I'd hoped for, and more.
The toast itself was lush and delicately spiced. Best of all, it came with small containers of marmalade, maple syrup, and in the espresso cup, warm caramel. Yum.
The small glass bowl of yogurt and strawberry mousse was almost overkill.
Almost.
---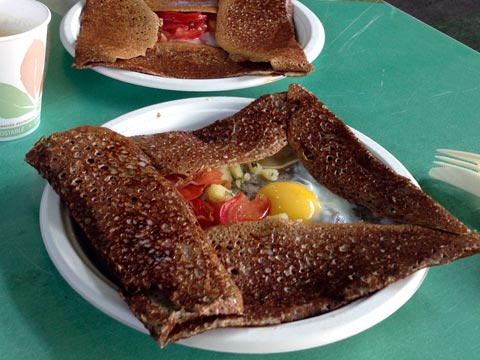 Again following Anne's suggestion, we went to the Jean-Talon Public Market for crepes. Mine was filled with tomatoes, potatoes, and raclette cheese.
The crepe itself wasn't the light, fluffy dessert type but instead was a savory crepe made with buckwheat flour, a little chewy.
The combination was delicious and made for a surprisingly filling breakfast.
The entire market was a treat for the eyes, nose, and tastebuds.
---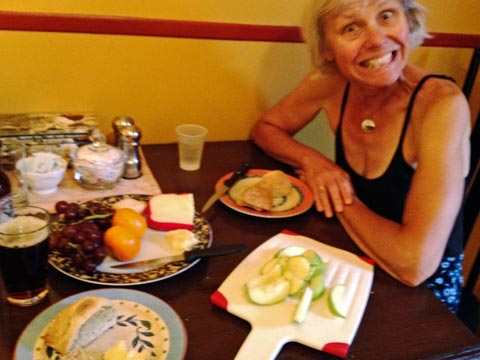 Yesterday we stopped at the local IGA for cheese, fruit and bread.
Today, after a long morning of walking around the Old Port, we came back to our B&B for a late lunch (followed by a nap).
---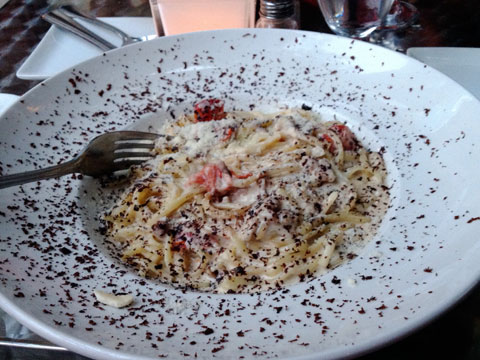 After more exploring and wandering, we walked a few blocks to the heart of The Village, Sainte-Catherine Street, which is lined with restaurants.
As we discussed the menu at Mozza, a young man finishing his meal nearby said "Eat here. It's the best place in town."
So we did. Joanne had smoked salmon & pasta and I just had to try pasta in a cream sauce covered with shredded dark chocolate.
Excellent.
---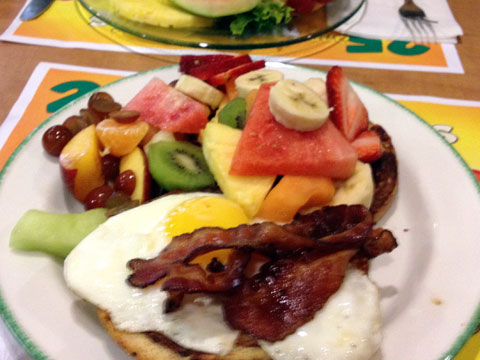 Breakfast the next morning was again on Sainte-Catherine, this time at a chain restaurant called Cora's.
It's like a Denny's obsessed with fresh fruit (not a bad combination).
My bacon and eggs were good, although the toasted cinnamon brioche underneath was too spicy for my taste.
All that fruit made me feel better about eating bacon and eggs so soon after last night's pasta in cream sauce.
Although Cora's isn't a fancy place it's a little pricey for the quality: we paid about $10 each for our breakfasts. The service was very good: first time I've ever had a server offer regular coffee refills when I'd finished my cappuccino.
---
We were hungry when we finally got to our humble little room at Motel 6 outside of Kingston.
I can't say much for the motel other than it was cheap and clean, but we did appreciate the microwave and fridge that let us store and then reheat our leftovers from previous meals.
We need to work on the presentation, that's for sure.
---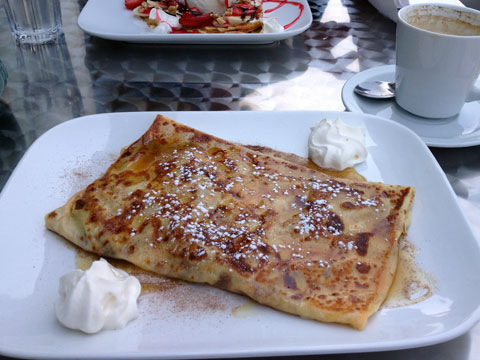 That's more like it!
We had really nice crepes outside at the Geneva Crepe Cafe in Kingston.
Mine was the "True Canadian": apples, Canadian cheddar cheese, cinnamon sugar and maple syrup.
Joanne had the much fancier "Banana Split": bananas, strawberries, and ice cream with chocolate and strawberry syrup.
A good start for a day of exploring Kingston.
---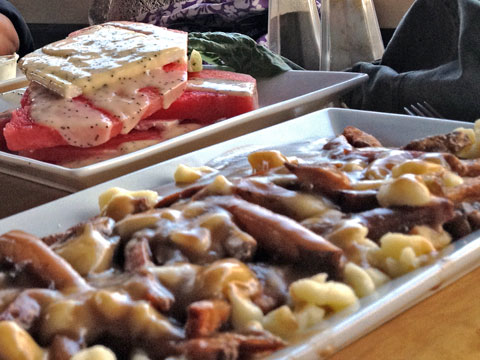 Finally, I did it.
I'd vowed to try the Canadian national dish, poutine, before heading back the the US of A, and this was nearly my last chance.
We were in the lovely small town of Ganonoque at the Stone Water Pub, a nice little eatery near the waterfront.
I got the traditional poutine, french fries covered with brown gravy and "Authentic Quebec-style cheese curds."
I also ordered the watermelon and feta salad, simple but wonderful.
As for the poutine, well, what's not to like about potatoes and gravy? The cheese curds were the consistency of mozzarella, with a mild flavor. I liked the combination, although the portion was so big I'm not sure of the nutritional wisdom. But I was in Canada, and it was poutine, eh?
---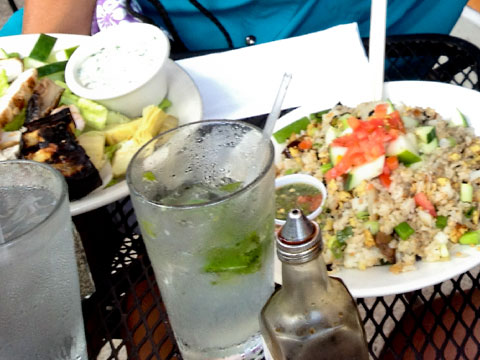 OK, no more Canada. We were back home in Cleveland at nearby Johnny Mango.
The tall, icy Mohitos may have affected my judgement a bit, but I loved my fried rice. Joanne enjoyed her chicken cashew salad. And her Mohito.
Good to be home.
More
On the road to Toronto - July 13, 2012
Next stop, Montreal - July 14, 2012
First impressions, Au GitAnn B&B - July 15, 2012
Jean-Talon Public Market, Jean-Drapeau Park - July 16, 2012
Old Port, Sailors' Church, Rainbow over Habitat '67 - July 17, 2012
Last day in Montreal - July 18, 2012
Kingston, Wolfe Island, Wind farm - July 19, 2012
The road home - July 20, 2012
Top of page
|