Audacious goals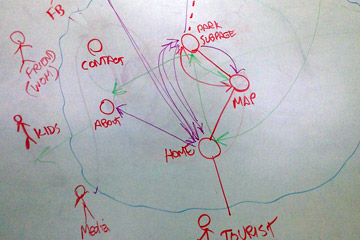 Two teams of Web Publishing 2 students are planning and designing websites that inspire people take action. We want to do more than just create nice-looking sites.
One team is trying to have people show how they are reducing litter, perhaps by uploading before-and-after photos. The other wants parents to visit one of several nearby mini-amusement parks and talk about their experience on the website.
These are pretty audacious goals for a school project. We want to see evidence that the visitors to our sites have done something as a result. Much easier to just put information online and count the number of visitors to the site.
Sitepath mapping
The best way to see how your website design works—or doesn't—is to have potential users sit down and play with it. Arranging that can be a little difficult, especially within the confines of a twice-weekly class. So we're starting with a technique that you might call simulated user testing. Not the ideal, but certainly better than nothing.
Taking an idea from the book Information Architecture: Blueprints for the Web
, we did two rounds of Sitepath Diagramming in class today. You draw a big circle that represents your website, and around it place stick figures of different types of potential users.
Some are the ideal visitor: motivated, interested, like a friend who visits the site because you asked them.
Others are more random, like someone who was searching for "kitty litter" but got a link to your site instead.
Once you've created a diverse range of possible users you talk about how they'd go through the site, mapping their path. What would they click on first, second, and so on? By trying to put yourself in the place of others with different motivations you're forced to think about how your current site design would help or hinder their progress.
Top of page |