Clients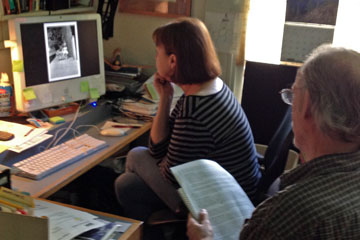 Oh yeah, now I remember. Clients don't always agree that your way is the best way to do things.
Your forget things like that during during 15 years of being a full time college professor. I got used to people doing things my way. Students didn't always like it. They might whine and complain, but ultimately I could say "just do it the way I said."
You can't do that with clients. They have this idea that since they're writing the check they should get to decide. Hard to argue with that.
Working together
At the same time, though, the client hires me because I know something, or how to do something, presumably better than they or they'd do it themselves. So when there's a difference of opinion, part of my job is to try to win the client over. I can't just say "do it my way."
I had to re-learn this lesson working on a fairly ambitious Powerpoint presentation that my friends Gary and Laura needed to "pitch" a public art proposal to a selection committee. It took us a flurry of emails and a couple of slightly tense phone calls to arrive at a back and forth way of working together.
I'd send them a first draft of a section, they'd look it over, make changes, and send it back. I'd do some polishing and tweaking and we'd look at it again. Once we figured out this system the project moved along nicely. Everyone felt that they had significant input into the final product, a presentation we are all proud of.
Top of page |