Payoff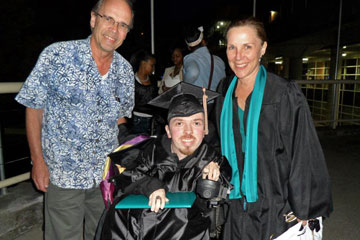 Although I've complained at times, I know that teaching is one of the best jobs around. Besides the great vacations, you actually get to help people achieve their goals, maybe their dreams.
When that happens, it's your big payoff.
With some students you find out in a conversation or an email. With others you celebrate on Graduation day.
My colleague Angela and I shared this moment with Josh who just became the first in his family to get a college degree. Despite physical issues that make many activities a struggle, Josh was the ideal student: bright, motivated, hard-working and positive.
Top of page |