Go Rembrandt!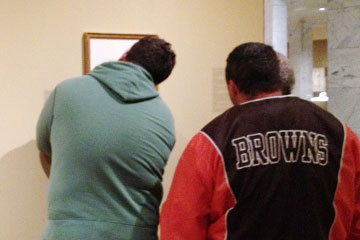 There's a lot I love about the Cleveland Museum of Art, but nothing more than scenes like this.
At the Museum's Rembrandt in America show three men had an animated discussion about one of the prints on display. The fact that a few months from now they may be in the Dawg Pound at a Browns games makes it all the better.
Unlike many museums, the CMA is not just a place that the wealthy elite go to soak up culture.
Thanks to a strong outreach effort on the part of the museum, Clevelanders of all kinds enjoy it. Even Browns fans. And as we left the museum we passed a young African-American woman with three or four kids in tow heading in. Made me feel good.
Top of page |