NOVEMBER 19, 2009
Deluxe dogs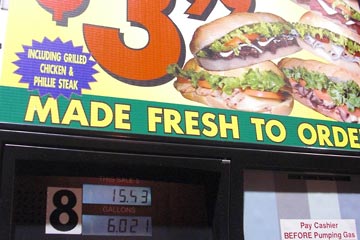 It started at the gas station while I was filling the tank. The ad for $3.99 sub sandwiches was almost irresistible, even though I know better. Buying food where you buy gas is asking for trouble.
Still, it was 8:30 pm, and all I'd eaten since breakfast were two slices of leftover pizza. I fended off the gas station meal by promising myself that I'd stop further down the road where a new hot dog place had recently opened. I figured this was a good day to put their slaw dog to the test.
Bummer. Closed. On to Plan B.
Plan B
Wally & I had agreed to meet for a beer (or two) so I suggested that we try the Happy Dog under its new owners. I'd heard that the menu was limited but interesting. Entrees = hot dogs. Sides = French fries or tater tots. But there were 50 toppings for the hot dogs, and most of those could be added to the potatoes in one form or another.
Here's the result. In the foreground is the closest to a slaw dog that I could put together for a comparison test. There actually is a substantial hot dog underneath the Vodka Slaw, Smoked Gouda Cheese, and Caramelized Onions. Since it was 10 pm I opted to sacrifice the Chorizo Chili topping in favor of a decent night's sleep.
In the background is Wally's creation, topped with a fried egg. And on the left, of course, Tater Tots.
The verdict?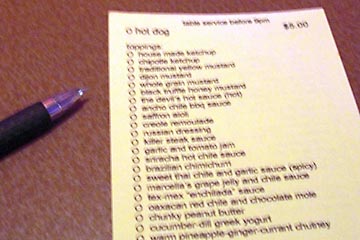 If you like hot dogs, you must try the Happy Dog. It's no Old Fashion Hot Dog—which some might consider a plus—but it's creating a whole new hot dog vibe.
A good indication of what Wally & I thought is that while I was still finishing the last bites of my slaw-onion-cheese dog we were planning the toppings we'd check off the list on our next visit.
Unfortunately as of today the Happy Dog's website doesn't provide much info, but if you want to visit you'll find it on the SW corner of West 58th and Detroit Avenue. This is a pretty great foodie intersection, with the Latin-influenced La Boca across Detroit and the modern American comfort food Latitude 41 N across 58th on the north side.
Top | |