Bloggers & Bruckner
As they did last year, the PR folks of the Cleveland Orchestra lured me to Blossom Music Center for their Bloggers & Media Night, which offered...
Food & drink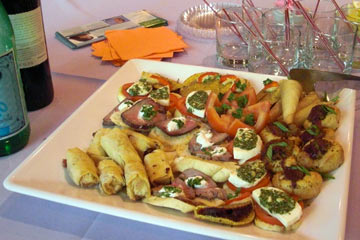 Hard to pass up.
Conversation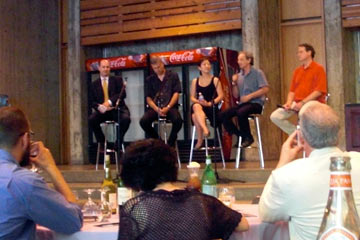 A chance to talk with several of the performers backstage before the concert.
Music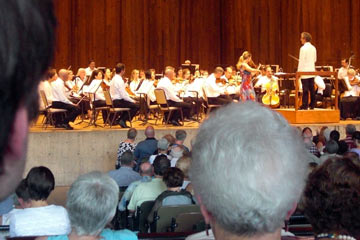 Box seats for the concert, Violin Concerto by Adams, and Symphony No. 9 in D minor by Bruckner. I'm no classical music critic—far from it—but I enjoyed both pieces.
I have to admit that I nodded off once or twice during the first movement of the Adams piece, but the second movement was dynamic and exciting.
The Bruckner symphony kept me awake and interested for an entire hour. Earlier the performers had described his music as a "wall of sound," and that description really captures it.
The best way I can describe it is like the music of John Williams (composer for Star Wars, Indiana Jones, Jurassic Park, etc.) but with substance, not just style.
Click below and you'll hear the Cleveland Orchestra accompanied by a few of the birds that live inside the pavillion.
Why should I care?
I'm writing this specifically for my Cleveland friends who probably brag about the orchestra but rarely go to a concert: go hear this band! Even if you're not a fan of classical music, give it a try. I've been to about 20 concerts in Cleveland, and several in other cities in the U.S. and Europe. It doesn't get much better than what you'll hear at Blossom in the summer or Severance Hall the rest of the year.
Soak up the experience: Severance is a gorgeous Art Deco hall, and Blossom is a lovely woodsy setting where you can sit outside on the lawn under the stars (for less than $20) or inside the pavilion where you'll have a closer view.
Or do this: next time visitors ask you about the Rock Hall, take 'em there, then suggest an orchestra concert as another way to experience Cleveland's music scene. A picnic at Blossom is a great experience, and you can combine a visit to Severance Hall with a trip to one of the museums and/or dinner at one of the good restaurants nearby.
If the Orchestra were a sports team they'd have more championships and All-Stars than the Browns, Indians and Cavaliers combined. Support this team too!
Top of page |