Becoming who you want to be - Designer Edition
I've taught a class called Portfolio Preparation at Cuyahoga Community College for many years. Students taking it are finishing one of our Visual Communication & Design programs: Graphic Design, Interactive Media, or Advertising Design. In the class we typically put a lot of time and energy into choosing, refining, and presenting work in the form of a portfolio to show to potential employers.
Pretty standard approach. Most schools that have such a course are doing the same thing.
This year we've changed focus a bit. After reading a couple of new books on portfolios and thinking about what makes people successful in any field, I've come to the conclusion that while showing strong work is essential, it's not enough. As anyone who's done it knows, you hire the person, not the work.
So this year we've spent a good part of the first three weeks talking about:
Who are you?
What do you care about most?
Who do you want to be?
What do you want to do with your life?
Out of this process I hope will come portfolios that not only show designers skilled in their craft, but people who care about being the best at it.
Inspiration
Flaunt: Designing Effective, Compelling and Memorable Portfolios of Creative Work.
You can buy the book ($29.95)or download a PDF version ($15). Authors Byrony Gomez-Palacio and Armin Vit promised that "the book would be full of practical, technical, philosophical and even emotional advice that would allow others to create the best and most appropriate portfolio possible."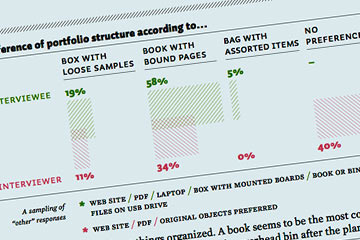 They've delivered with an illustrated collection of 41 case studies, interviews with well-known designer and educators, and surveys of designers, both interviewers and interviewees.
The case studies showing various styles of portfolios are interesting, but similar to what you'll see in any portfolio book. The interviews and surveys provide more valuable information on nuts & bolts topics.
No Plastic Sleeves: The Complete Portfolio Guide for Photographers and Designers

More "how-to" than "show & tell," this new (2010) book by Danielle Currier and Larry Volk is also worth a look. They offer lots of good advice, including these from their "Top Ten Portfolio Tips" that I gave students on the first day:
#5. Develop a brand statement for yourself, capitalizing on your unique abilities and creative vision. Let this guide your approach in the creation of a distinct concept that fuels the basis of your portfolio book and website designs.

#6. Your book can be so much more than a simple (and often generic) container for your work. Think of it as a well thought out and impeccably crafted creative statement in and of itself. Doing so will help to set you apart and speak volumes about your initiative, drive and passion for your field.
You're Not That Talented, and Other Advice
This web article by Aharon Rabinowitz has twenty pieces of advice, including:
#2. Ask yourself what it is you want to do. I have never met anyone who was successful who didn't know what they wanted to do. Knowing what you want to do (even if it's 10 years from now, and not a realistic goal for today) will give you the passion and drive needed to reach your ultimate goals.

If you wake up in the morning and can't answer the simple question: What do I want to do? – then don't expect to go very far. People want to work with those who are passionate about what they do, and not knowing what you want to do means you can't put yourself fully into what you're doing.
Top of page |