Grand finale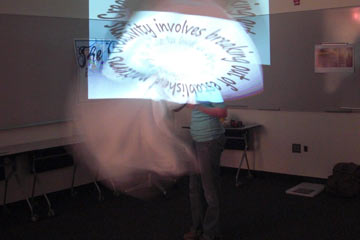 One of the most interesting classes of the year is always the last session of Intro to Visual Communication. Students bring in their individual interpretations of a quote about success, failure or creativity.
After a semester of tightly-defined projects the final is a complete contrast: they can do anything at all as long as the words of their quote are somehow visible.
Here you see the words projected onto swirling, twirling cloth flags being wielded by Rachel, who has performed this sport? art? called "flagging" for many years.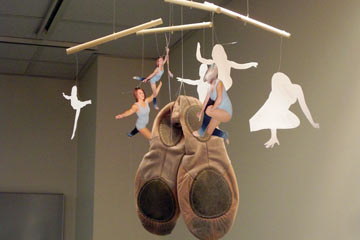 Taylor, on the other hand, is a dancer but chose to make her statement via photos and a pair of her dance shoes. Her quote about the importance of getting up after you fall is written on the front of the shoes.
The photos show another dancer both succeeeding and failing (falling). Putting the images into a mobile is a clever way to combine 2D, 3D and motion. Sort of dancing without actually dancing.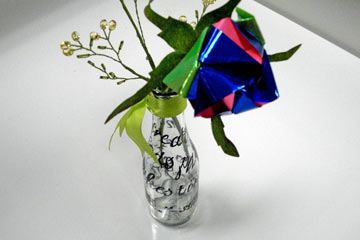 Here you have to provide the motion. The words are written in a spiral that winds down the vase. You have to hold and spin it to understand the quote.
Skyra explained that she chose to make a blue origami rose because such a blue flower doesn't occur in nature. A special act of creativity is required to see it.
An additional aspect of the rose is that it can change from a bud to a bloom, showing the flowering of creativity.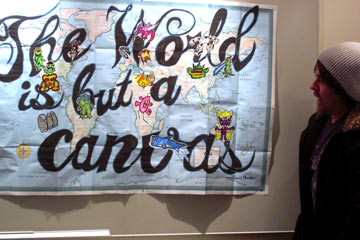 Rick is an experienced silkscreen artist who creates and sells custom t-shirts. When I challenged him to do anything but a t-shirt, he responded with this quote painted onto a map of the world.
Top of page |