Finding the perfect dog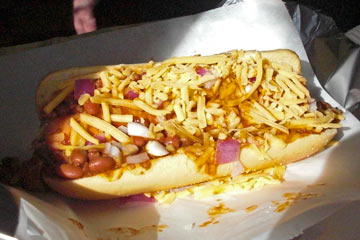 You may know that I'm dedicated to finding the best chili dog in the world. If it's an option I try a slaw dog (chile + coleslaw).
My search has taken me from West 41st and Lorain in Cleveland to Parma and Marblehead, Ohio, Wilton, NH, and last summer to Dingle, Ireland.
So of course I couldn't pass up Franks-A-Lot in Portland even though we had just bought seven pieces of pizza to go from the neighboring shop.
The chili dog looked pretty good except for all those kidney beans. My advice to chili dog chefs: leave out the beans. Even the Irish guy knew that.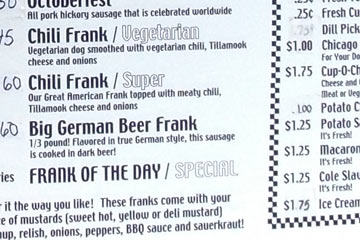 In Portland I could have added coleslaw from the side order menu, making a slaw dog, but I didn't notice it until it was too late. I saw the Chili Frank / Super and ordered it.
As soon as I bit into it I was disappointed. The dog itself was big and juicy, but boiled, not broiled. The chili was bland, pretty much like what Mom made, beans and all. The Tillamook cheddar somehow all got squished to one side of the dog, leaving the rest without its tangy flavor.
Sorry, Franks-A-Lot. I won't be back. Come to think of it, the pizza wasn't that great either.
Top of page |