Inspiring, but...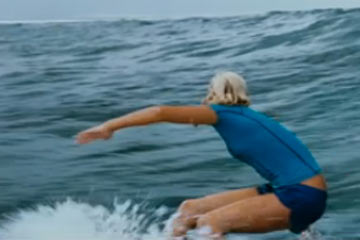 It has spectacular surfing footage, is based on a truly inspiring story, and is so sweet it will make your teeth ache.
That's Soul Surfer, which we saw at the Capital Theater courtesy of the Cleveland International Film Festival.
I thought it was an indy film, but of course should have known better since Helen Hunt plays the wise yet worried mom and Carrie Underwood the impeccably made-up church camp counselor.
Still, if glossy Hollywood productions don't turn you off, the message of the film—that hope, determination and a lot of work can overcome impossible odds—is a good antidote to the daily world news.
Oh, and if glossy Hollywood productions do turn you off, watch this parody video starring Bethany Hamilton, the actual "soul surfer" the movie is based on.
Visit Bethany's website for the story minus Helen Hunt and Carrie Underwood.
Or read her book: Soul Surfer: A True Story of Faith, Family, and Fighting to Get Back on the Board
.
Top of page |