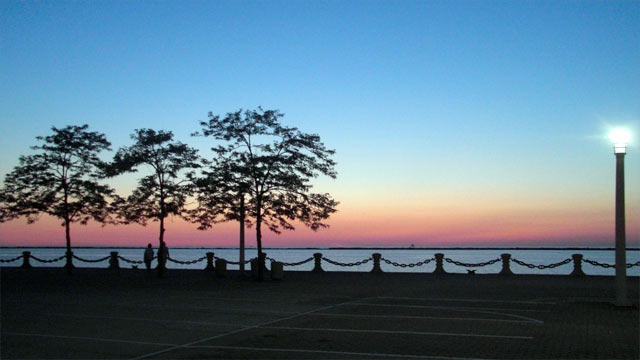 This photo made it, but a more interesting one didn't.
When I started to put a portion of my life online via daily entries on this website I made a rule: avoid doing things just to make a more interesting story or a better photo. That can be harder than you might think, especially when it comes to photos.
The one that got away
Yesterday afternoon I had just started the first lap of my five lap run at Edgewater Park when I noticed a big tour bus in the parking lot. Then I saw a group of "dressed up" men and women sitting at picnic tables. The men had long-sleeve shirts with collars and the women light-colored dresses. Hmm.
When I made the turn toward the beach I saw a large assortment of men, women and children dressed similarly standing near the water. It looked like a group of 20-30 Mennonite families had stopped at the park for lunch. Several of the women and many of the kids had hiked up their dresses or rolled up their pant legs to wade in the shallow water. It would have made a great picture.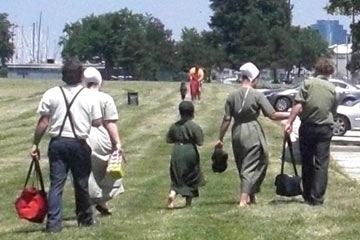 The contrast between this conservatively dressed group and the typical swimsuit-wearing crowd at the beach was striking. You'd have loved it. I really wanted to show it to you.
But to stay true to my "no scripting of your life" rule, I ran all five laps before grabbing my camera and heading to the beach.
Just as I got there I passed the last of the families headed back to their bus.
But wait, there's more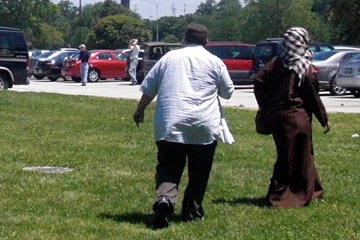 Had I gotten to the beach ten minutes earlier I would have included in my photo of the Mennonites a couple wearing Muslim attire, a nice comment on the diversity of the people you'll find at Edgewater Park on any given day.
In what I think was a coincidence, they left the beach at virtually the same time as the Mennonite group.
Top of page |