More about...
Plantcam
The image quality of this movie, ten hours in the life of a cantaloupe plant in my garden, is much better than my first attempt.
It may be that the Plantcam does best when shooting at relatively close range—as its name would suggest.
On the other hand it may be because this movie is made from a sequence of still images captured at 2048 x 1536 pixels vs. the 640 x 480 of my first one.
Joy Machines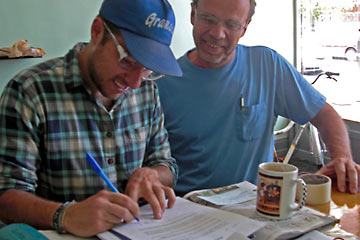 In this picture Alex Nosse, one of the young entrepreneurs behind a new bike shop opening tomorrow on West 25th Street, signs our loan agreement.
He and his partner did a lot of research before asking for support in their new enterprise. I'm happy to be in a position that lets me loan them money to kick things off.
Unlike times in the past when I've considered similar "loans" actually contributions that I never expected to see again, I think this time the business is based on more than enthusiasm and good intentions. I expect this one to be repaid.
You can help make it happen. If you need a bike, accessories, and/or good advice, stop in at Joy Machines. Or at least "Like" them on Facebook.
Sit to pee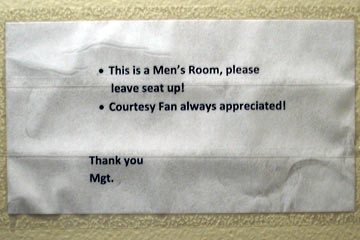 This is how we do things in the good ol' U.S. of A. None of that girly seat down stuff like they do in Europe.
Note: Courtesy Fan always appreciated!
Thank you
Mgt.
Top of page |