Why we're fat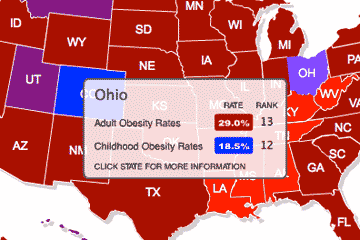 Take a look at the chart at right from HealthyAmericans.org. Pretty scarey stuff, if you're concerned about the health of our families.
What I saw at Edgewater Park helps explain why we're so fat. A family group of eleven people, 3-4 adults and the rest children from about ages 6 to 16 were walking on the path. They started at the parking lot and were strolling around the mile-long loop.
Of the group, only two of the kids looked to be an appropriate weight for their age and height. Two more looked slightly overweight. The other seven people, ranging in age from about forty to sixty, were clearly obese. Each looked 30-50 pounds overweight.
But at least they were all going for a walk together. Well, sort of. When I looked back after passing them they had already turned around after about 100 yards and were heading back to the parking lot!
So much for family exercise. I wouldn't be surprised if they bought ice cream cones before getting back into their car.
I'm not making fun of them, because it's not funny. It's sad. Our culture has made exercise something separate from life, something you have to do in a gym on a fancy machine with a personal trainer. No surprise that most people don't have the time, energy and/or money for it.
This family visit to the park could have been their free "trip to the gym." One loop around the path is nearly a mile, which would burn about 100 calories. Wouldn't offset a 400-500 calorie ice cream cone, but still way better than what they actually did.
Top of page |