Making pesto...oops!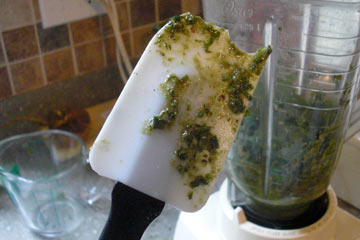 Here's a bit of advice that you'll find in the "Duh! Always Remember..." guidebook, right after "When working on electrical devices, always remember to shut off the power."
In my case, I was making a batch of pesto using three cups of lovely basil leaves I'd clipped in my garden. I put the garlic and chopped nuts in the blender, followed by the basil and olive oil. I pushed "Chop."
But the darn basil wasn't sliding down to the bottom. Maybe if I took my spatula I could push it down into the blades...
Yep. Always remember to turn off the blender before sticking the spatula into it. My organic pesto had the added ingredient of white plastic. Not only did I feel stupid for doing this, but I had to throw out the entire batch. What a waste.
If you want to try yourself, here's the Basil Pesto recipe I used. Note that the ingredient list doesn't mention Plastic Spatula.
Top of page |