East 1-4-3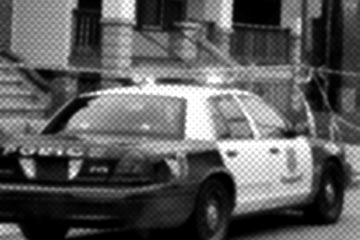 "Caller reports a male walking down the street with no shirt, a T-shirt wrapped around his arm, and a sawed-off shotgun."
I started with a link posted on Facebook, Listening to Los Angeles, which led me to RadioReference and the live feed from the Cleveland Police.
What finally happened on East 1-4-3 with the guy with the sawed off shotgun I don't know. I lost the thread of the conversation as I foolishly tried to multi-task, checking something else online.
Trying to rejoin that unfolding drama I got caught up in the interwoven thread of terse conversations between dispatchers and cops as they watched a drug deal before moving in on the participants, responded to a security system alarm, talked about an "agg burg" (aggravated burglary I assume), and...
"Male just walked into Jumbo's, it's a Code One." "This male pulled a gun on the caller, just walked into Jumbo's."
Another fragment washed along in the never-ending stream of stories, each one a human difficulty—tragedy, perhaps—unfolding as I type these words. What happened in Jumbo's? To the victim in the agg burg? To the woman with the unnamed male banging on her door? To the guy with no shirt but a sawed-off shotgun on East 1-4-3?
I have to force myself to stop listening.
Hours later I'm still troubled by the dark current I heard running through daily life in my city. I'm sobered by the number of gun-related reports in a single hour on a single night. I have a new respect for the officers who respond, never knowing what awaits when they get to the address matter-of-factly relayed by the dispatcher.
Top of page |