Bagged a big one!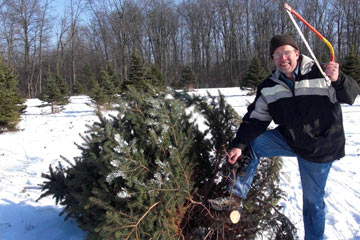 Here I am doing my best lumberjack imitation. Not sure why, but I thought it would be a good idea to cut our own Christmas tree at Fred's Tree Farm in Valley City, Ohio.
OK, I did have a couple of reasons: $20-25 for any tree, any size seemed like a pretty good deal. With 10-foot ceilings in our 1890s-era house, we need a big tree.
Reason #2 was I saw Fred's mentioned by someone on Facebook. Sort of a recommendation, and it sounded like fun.
So the tree was $25 as advertised, but as for fun...well, not so much. Notice in the picture that you don't see any trees in the foreground. I'm smiling, so you know we haven't started dragging the tree back to the car yet.
The map shows the situation pretty dramatically: all the good-looking closer-in trees have been cut. You keep walking and walking looking for that perfect tree. Farther and farther away. Eventually you find it, cut it, and drag it back.
Smart folks brought a big blue tarp or a sled to make this last part easier. We didn't. Dragging a 10' bushy blue spruce about a third of a mile isn't much fun.
After much whining and complaining ("Who's idea was this anyway?") we got it back to the parking lot and tied it to the roof of Joanne's blue Focus. It was a slow drive back to Cleveland, blinkers on.
Top of page |