Don't forget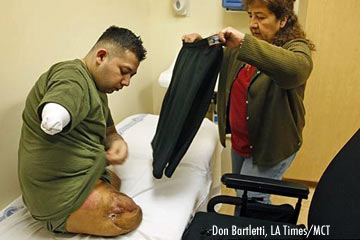 Heard on the radio today that the U.S. has now been at war (Afghanistan + Iraq) longer than at any time in our history.
Afghanistan is an ongoing disaster that likely won't end any better for us than it did for the Russians and the British before them.
Iraq is/was an immoral, ill-advised, totally optional war that George W. Bush started to show that he was a tough guy.
Still.
American men and women are paying a huge price because our government—with the approval of you and me, or at least without our vigorous protest—sends them off to implement some policy or other.
I'd ask that regardless of how you feel about the war, you read this story that describes the terrible injuries troops are suffering—legs, arms, genitals blown off by IEDs—and remember them today.
Afghanistan War IEDs Cause Surge In Double Amputees Among U.S. War Wounded

Since late 2001, IEDs in Afghanistan have taken the lives of 683 Americans and severely wounded 6,670.

"We've seen a dramatic increase in the number of service members who have not only amputations above the knee but what we call hip disarticulation, meaning they have no femur at all," Dr. Paul Pasquina, chief of orthopedics and rehabilitation at Walter Reed Army Medical Center in Washington, D.C., told The Huffington Post.

"So not only are they losing their legs, but half of their pelvis. And we've seen a dramatic increase in the numbers of casualties returning with testicular injuries or genital loss, and that has severe life-long implications" for these wounded troops, Pasquina added."
Top of page |