Free lunch
Since Joanne and I celebrated Christmas Eve with our family yesterday, we had a quiet Christmas morning. Around noon we went to a local church to help with the free lunch they were offering to the community. We put on plastic gloves, plastic aprons and loaded trays with salad and sweet potato pie.
In a way this took us full circle to when we first moved to the Near West Side forty years ago. At that time a loosely-organized group of activists, hippies and religious types cooked and served supper at St. John's Church every Monday. The Monday Night Meal was open to anyone who was hungry. It drew a mixed crowd, both men who lived on the street ("homeless" wasn't invented yet) and would-be activists like ourselves.
The group evolved into a slightly-more organized Thomas Merton Community, named after a Trappist monk who was known for his poetry and opposition to the war in Vietnam as much as his piety. As one of "the Mertons" I spent Wednesdays for thirteen years serving meals to the poor. The crowds got bigger, younger, and more mixed. It wasn't just guys who spent the day drinking cheap wine, it was younger men, women, and whole families. We'd serve 150 or more on a busy night.
I eventually burned out. I began to resent the very people I was there to serve. One night I nearly got into a fight with a hostile man who wanted a bigger portion of food. It dawned on me: it was time to take a break. Turned out to be a very long break.
Handout to handshake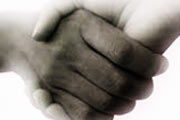 Today in the church basement reminded me of the best part of the Monday Night Meal: meeting people. There was Colin, the teenager from Middleburgh Heights, his father, and the entire kitchen crew in plastic glove and aprons.
More importantly, there was Mike, the guy who works in a heat-treatment plant on the East Side who saw the "Free Lunch" sign and stopped on his way home to West 47th Street. From behind the serving window in the church kitchen he looked like "a homeless man." I'm afraid that's all that my colleagues who stayed in the kitchen ever saw.
He was sitting alone at the end of table, and I decided to take a plate of food and join him. He looked different from across the table. Mike talked softly about his job and his disabled wife waiting at home. He'd get another meal in a Styrofoam container to take her when he left.
The high point of my afternoon came when I introduced myself, he replied "I'm Mike," and we shook hands. We had for an instant a shared feeling of humanity, a recognition that we're all in this together even though we shared no more than this brief conversation.
One of the best Christmas gifts I got this year.
Top of page |