What's in a name?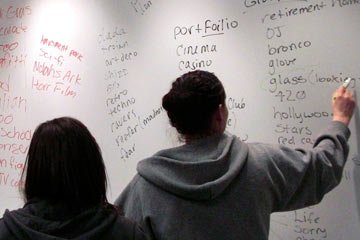 If you've ever tried to name a band, a business or a website, you know how hard it is to find the right words.
You want it to be clever, but not contrived. Catchy but not silly. And of course you want to capture everything that's good about it in just a couple of words.
Yesterday this year's Portfolio Preparation class spent an hour brainstorming ideas and themes for our end-of-semester show.
We're not there yet. At the end of class we had about a dozen possible themes, but no clear winner. We'll revisit this next Friday. To see how this went in other years, check out what happened in 2010 and 2008.
Top of page |