Shopping (and eating) at the West Side Market, Part 3
After more than 20 years of shopping at Cleveland's West Side Market I'll share a few tips I've learned, sometimes the hard way. Part 1 talked about the best day(s) to shop. In Part 2 I introduced you to my favorite vendors. Today I'll tell you where I eat or buy food to go, inside the Market.
Breakfast, lunch or dinner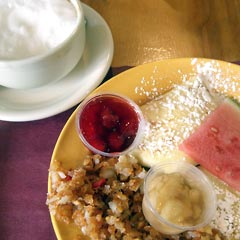 For many, many years the restaurant in the southeast corner of the Market was a true greasy spoon, complete with a pall of cigarette smoke and a bleached-blonde cashier who called you "Honey." If all you wanted a couple of eggs over easy, homefries and bacon it was just fine.
Things have changed. The West Side Market Cafe added better breakfasts, subtracted the cigarette smoke, and gives you a lot more to choose from. It's open every day of the week for breakfast and lunch.
Sunday brunch even offers the possibility of a Mimosa made with fresh-squeezed OJ to go with your Cheese & Tomato Frittata, Eggs Benedict, or Blintzes.
Quick lunch or snack
Recent years have seen more prepared-food stands open up. I've tried most of them, but there are only two that I regularly visit:
Frank's Bratwurst (Stand G-3, H-3)
A market and Cleveland tradition, one of Frank's sandwiches is the best value you'll find. The brats are boiled, then pan-fried to just the right crunchy "snap." I order mine on a crusty hard roll with just a little kraut, topped with brown mustard or occasionally horseradish and ketchup.
You'll find several members of the family working shoulder-to-shoulder in this tiny stand at the northwest corner of the market. Across the aisle one of the sons sells similar sandwiches but with Italian or smoked sausage and grilled onions and peppers. I'm getting hungry just thinking about it.
Maha's Falafel (Stand G-13, H-13)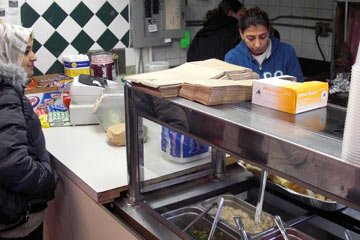 If you're a vegetarian or just aren't in the mood for sausage, Maha's falafel sandwiches are the best!
The crispy chickpea patties are seasoned just right, spicy but not overpowering. They come wrapped in a soft pita with lettuce, tomato and tahini sauce. There are a number of other Middle Eastern specialties on the menu, but I stick with the falafel.
Since neither Maha's nor Frank's has tables or chairs, eating on the spot can be awkward. Indoor, the best spot is the balcony (see below). In warm weather go out on the West 25th side and cross the street to Market Square Park. Or, what I often do is buy a sandwich as I'm leaving the market to eat at home.
Only one choice, but it's a good one: City Roast Coffee, at the far southwest corner of the market. With a big selection of locally-roasted coffee and and even larger inventory of teas, if you can't find what you like you're far more demanding than I.
Most Saturdays I pick up a cappuccino when I'm finished with my shopping, then head up the nearby stairs to the balcony to watch the hustle and bustle of the market below. The balcony is also a good place to eat that bratwurst or falafel sandwich.
What's your favorite?
What are your favorite places to eat and shop at the West Side Market? Click the "

Comments" link below to add yours.
Top of page |