Browsing browsers
Everything we see on the Web comes to us courtesy of a web browser. If you have a Windows PC you're probably using Microsoft Internet Explorer. On a Mac you may be looking at this via Apple Safari (also available for Windows). If you're like me you may have converted to Firefox, a project of the non-profit organization Mozilla. Or you may prefer Google Chrome.
My own site statistics show that these four browsers are used by 97.3% of my visitors. The remainder are visiting via Opera, a Blackberry, or PlayStation (!).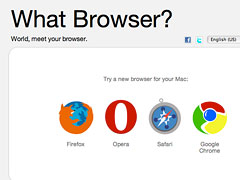 If you're unsure of the browser you're using, just hop over to WhatBrowser.org. After noting your current browser you can choose to download the latest version of Opera, Safari, Chrome or Firefox.
WhatBrowser is brought to you by Google, but it gives you three other browser options, presented in random order (click to reload the page and you'll see them shift).
Why change?
Newer browsers do things better because they understand the latest versions of HTML and CSS, the scripting languages that web designers and developers use to create web pages. Unfortunately Internet Explorer (especially v.6 and earlier), is worst at handling newer code. Safari, Firefox and Chrome are much better.
I've used Firefox for several years, in large part because it has many helpful "Add-Ons" like the Web Developer Toolbar that make my life easier. This weekend I've been playing around with two other browsers—well, one and a half, really—and may reconsider my attachment to Firefox.
Google Chrome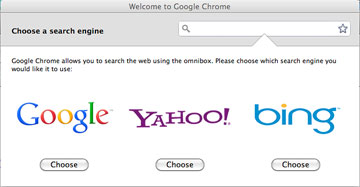 I was interested in testing Chrome earlier but couldn't install it until I upgraded my Mac operating system. If you're still using OS 10.3 you're out of luck.
When I finally was able to install Chrome I was surprised that I had the option to choose a search engine other than Google. Just for the heck of it I opted for Microsoft's Bing.
The thing I like best about Chrome is its simplicity.

As you might expect, Google has pared the interface down to the bare minimum: Forward, Back, and Refresh arrows and single window that shows the web address of the current page and doubles as a "Search" box. Type anything in the window and your chosen search engine finds it.
And it's fast. I don't have any hard data, but Chrome seems noticeably faster than Firefox at opening pages and playing video. Still, I'm not sure this is enough to make me switch, especially when RockMelt has Chrome's speed but adds more.
RockMelt
If you find yourself constantly jumping to Facebook or Twitter throughout the day, RockMelt may become your new BFF. Because RockMelt is based on Chrome, its speed and overall performance should be the same. But it handles social media differently.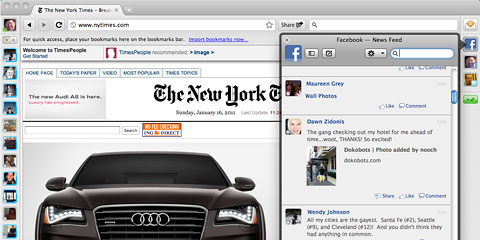 RockMelt automatically puts your Facebook friends in a column on the left, your social media sites and RSS feeds on the right, and adds a "Share" button at the top so you can easily post or tweet links.
On the flip side, as you're browsing, any friend's new posting or tweet pops up automatically for a couple of seconds then quietly fades. Want more? Click on the Facebook or Twitter icon and a narrow column overlays your current page.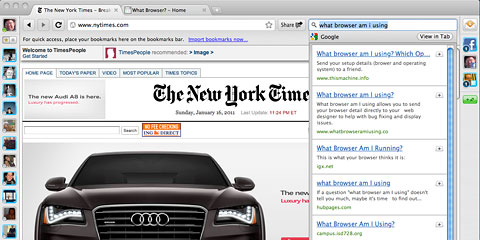 RockMelt doesn't use Chrome's single "omnibox" but opts for a separate search box on the right. However, as with Facebook and Twitter, it puts search results in a column overlay rather than jumping to a search page.
I'm impressed with how RockMelt gives you more information and constant updates without being annoying.
Its designers made a brilliant breakthrough by choosing to overlay the information on the page you're viewing rather than taking you to a new page. This makes the experience feel more stable. I'm less enthused by the icon strips at left and right—makes the page visually cluttered. Fortunately you can turn these off. I'm going to keep the right edge on but lose sight of my Facebook friends on the left.
What is your favorite browser? Have you tried Chrome or RockMelt? Click "

Comments" below to share your thoughts.
Top of page |