Go Vikings!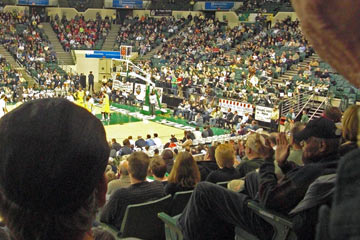 Out with the boys tonight to watch Cleveland State take over first place in the Horizon League by beating Valparaiso.
A decent crowd (about 5,000) was pretty quiet as CSU led throughout but couldn't seem to put Valpo away.
Sometime in the middle of the second half CSU responded to yet another comeback attempt with a couple of fierce offensive and defensive plays. Finally the crowd stood up and roared.
Too bad that neither the students nor the city have fallen in love with this team the way it was when I was an undergrad at the University of Dayton. In those days you had to camp outside of the fieldhouse a day in advance to get one of the 900 student tickets. And when the game started the place went crazy.
Seems like things in Dayton are still pretty much the same. Hope that someday CSU students and athletes will get to enjoy a scene like what happens regularly in Dayton.
Top of page |