Ch-ch-ch-changes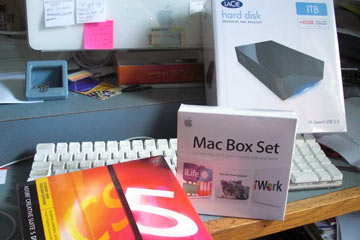 The last time I made any major change to my computer was May 2007. I upgraded from a Mac G4 to an Intel iMac that I bought refurbished from Apple. Looked new, full warranty, $100 less than the educator's discount price.
For 2-1/2 years this set-up has served me well. I'd be happy to keep chugging along with my outdated operating system and a slightly tired version of Adobe Creative Suite. But...
In January the college will switch to the new OS, Snow Leopard, and update to Creative Suite 5. So if I want to be able to be reasonably knowledgeable when I do demos for my students I have to go along for the ride.
The Snow Leopard upgrade only comes as part of the "Box Set," which means the new iMovie and iPhoto. Here too I'd be happy to keep using the older versions, but I'll admit I'm anxious to try Face Recognition in iPhoto. iMovie has finally brought back a version of the timeline for editing, so I can at last abandon iMovie HD.
As big chunks of money were being added to the credit card bill, I ordered a 1 TB LaCie hard drive. This will let me back up everything currently on my computer drive, which is about 99% full. I'll also have plenty of room to keep adding to my collection of photos, now past the 10,000 mark.
I'm going to set aside at least a full day to make backups and upgrades, probably during the coming Winter break. Never know what to expect with a major software upgrade. All hell may break loose as I find that software and/or hardware that had been working just fine doesn't want to play nicely with the new OS. Wish me luck.
Top of page |