New brews
First visit yesterday to the Market Garden Brewery on West 25th St. Here you see the choices I made for my 6-glass beer sampler.
They are roughly arranged lighter to darker except for the last, a very light wheat beer, never my favorite style. But with eight beers to choose from I avoided the two darkest ones, leaving this lineup.
I liked the first three the best and the blonde #4 was OK. So I seem to be a lager fan. None of them knocked my socks off, but most were very drinkable (again, other than the wheat.)
Location
I love how the Market Garden folks have transformed the old poultry shop next to the West Side Market into a very attractive pub without completely obliterating its past.
This shows the Brew House where the beer is actually made. The front building on West 25th used to be a Middle Eastern grocery store, and it's been completely transformed into an attractive dining area.
Conversation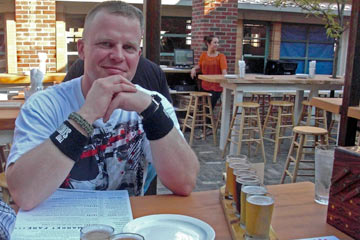 The occasion for this visit was to welcome home Geo, a former student at Tri-C now serving in Afganistan. We enjoyed our beer samplers, some fries and a very good pretzel as we hung out on the tree-shaded patio.
Nice way to spend an afternoon.
Top of page |