Sweetness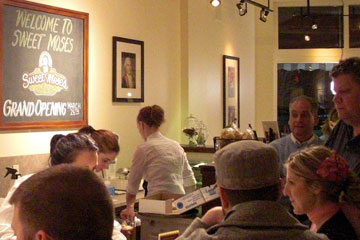 It's always good when a new business opens in the neighborhood. It was a no-brainer that we had to visit Sweet Moses, a new "old-fashioned" ice cream parlor in the Gordon Square area for its Grand Opening last Saturday.
We weren't the only ones who thought this: at about 9:30 pm the line was ten deep and the counter and all the tables were full.
When the weather is nice we'll be able to walk to Edgewater Park and stop for an ice cream sundae or root beer on our way back.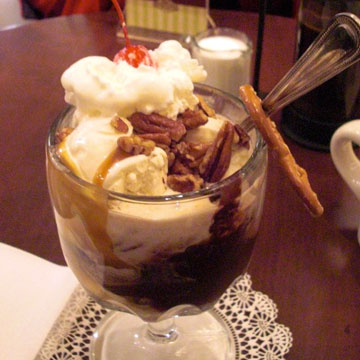 This is what it's all about—a Turtle Sundae, hot fudge and caramel sauce on vanilla ice cream, topped with whipped cream.
Of course I have to compare this to the gold standard, a similar sundae at Malleys. Here's how they stack up:
Vanilla ice cream - Sweet Moses is creamier
Hot fudge - Malley's has more flavor and is thicker
Caramel - About the same
Whipped cream - Malley's is richer (and you get more of it
Pecans - about the same, although Malley's serves them in a little paper cup on the side so you can sprinkle them on as you eat your way down.
Quantity - Sweet Moses gives you more, but I'm not sure how the price compares.
Overall - slight edge to Malley's, but since Sweet Moses is much closer I'll definitely be back.
Top of page |