Normal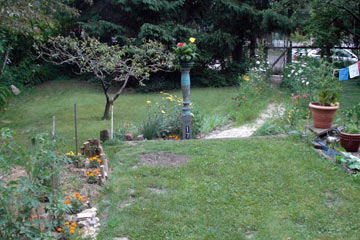 Yesterday was a transition day. We were still sort of on vacation, or at least in vacation-recovery mode. Today was Monday, a whole different story.
I spent what seemed like all day (really only 3-4 hours) cutting the grass and getting rid of the worst of the weeds. The weather was fantastic—sunny but not too hot—so it was almost fun.
Fooled by this success I went to Edgewater Park for a run, the usual five miles that I'd been doing every other day before vacation. I planned to continue more or less on the same schedule while we were on Kelleys Island.
Well, I didn't. Not every other day, not every third day, not even once a week. Actually, not even once. Ad today I felt it. I slogged around the track at what can be charitably described as a "slow jog." I used to look down at anyone keeping a pace like that, considering myself a runner, not a jogger.
Not today though.
Top of page |