PlantCam on vacation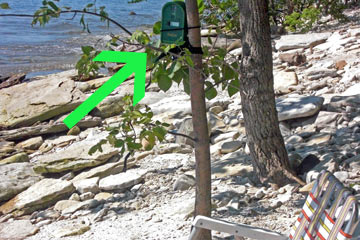 The main reason I bought a PlantCam time-lapse camera was to record two weeks' worth of daily views from our vacation rental home on Kelleys Island.
Yeah, I know I'm a bit obsessed with this idea, as you know from a couple of days ago. So sue me.
But if you're interested, here's a look at the camera strapped and bungee-coded to a small tree on our beach. It's facing toward the sunrise, and is set to take one picture per hour from 6 a.m. until 10 p.m. The camera has very poor low-light performance so there's no point in recording after sunset.
I assembled the 16 pictures per day in iMovie HD, and you can watch the results below. I'm not happy with the pacing and may rework the video at a later day (hah!), but here it is.
Watch closely and you'll see me once or twice in the first shot as I take a sunrise picture with my point & shoot camera. There's also a nearby boat on the water one day, and the occasional bird flying past. You can see from the waves that the lake was pretty rough much of the time, although only one day was really stormy.
Sorry about the ever-shifting horizon. There was enough wind on most days to make the small tree sway back and forth. If I do this again I may bring a sturdy tripod, which would eliminate the motion as well as giving me more freedom in choosing a view.
All in all, the PlantCam did its job well. Next assignment, surveillance of my garden to see what critter is now pillaging my lettuce bed. Hear that, groundhog? I'm comin' after you.
Top of page |