Strange ritual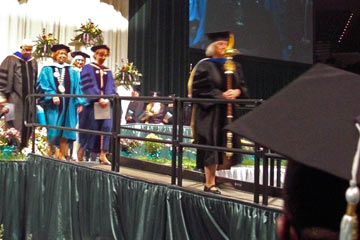 Dressed in what's called "academic regalia," Cuyahoga Community College administrators leave the stage, led by a faculty member carrying a ceremonial mace.
Mace? Robes? Funny hats?
This odd shout-out to medieval times occurs once a year at virtually every college graduation. I was one of the group in the extreme foreground, wearing my own black robe, multi-colored sash and flat-topped mortarboard.
Every graduation ceremony is an endurance test as hundreds, maybe thousands of names are read and each student makes his/her way across the stage. Each is handed a fancy folder that in reality contains nothing (actual diplomas arrive in the mail later).
Still, the expressions on students' faces as they walk, skip or dance down the ramp make sitting through all the boring speeches worthwhile.
Top of page |