Cake & donuts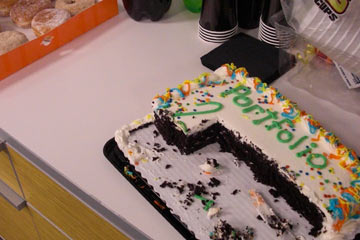 For the last official Portfolio Preparation class of the semester we had an impromptu party. If the chocolate cake didn't provide enough sugar to keep students going, they could have a donut or two as a chaser.
Next Thursday and Friday is our big Quite A Lineup Portfolio Showcase downtown at Metro Campus.
We've been working hard on getting the word out through social media, email and the more traditional printed postcard, yet you never know what to expect. I'm cautiously optimistic that we'll have a good turnout.
If you're a Clevelander, stop in to see what Tri-C students have been up to. They (and I) will be thrilled to meet you.
More
People Get Ready - April 15, 2011
The Competition: Kent State Portfolio Show - March 29, 2011
The Mini-Review - March 25, 2011
We Pick A Theme - March 4, 2011

What's In A Name? Portfolio Show Themes - February 11, 2011
Become Who You Want To Be: Portfolio Advice - February 4, 2011
Top of page |